×
Photo by Stewartography
Aaron Kizer1
×
Aaron Kizer's "Steve Jobs" performance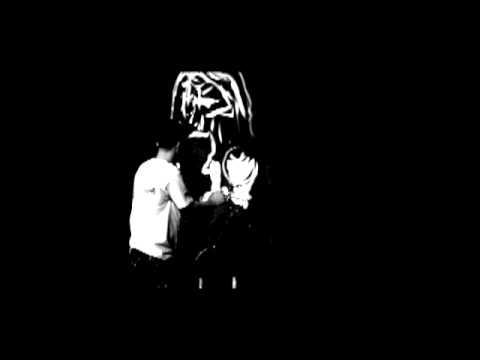 Aaron Kizer wears a pendant with his father's image on it—a reminder of the moments that ignited his crusade to wring significance from every second of life. In this moment, a train horn's discordant notes drift on the crisp autumn air to reach the crowd assembled at the intersection of E. 1999 and Eternal streets. Just beyond the concrete wall upon which Bill Cosby and Ben Franklin lean, the bridge lights are reflected in the rippling gloom of the river. A 50-something gentleman in a pressed oxford shirt stands just feet away from a young guy sporting a backward-turned baseball cap on his head and Mardi Gras beads dangling from the belt loops of his baggy jeans. Einstein, Bill the Butcher, Hitchcock and Marty McFly are here, too, as are several hulking, arms-crossed men who stand watch over the throng of 500 people. This is a world of Aaron's creation.
---
Art is a path Aaron travels to make sense of, and move forward through, life's challenges—and he has experienced more tests of human fortitude than seems fair for a man of 30 years.
The Owensboro native has no formal art training. "I got kicked out of art class in high school for goofing," he says. While working for his father's construction company, he began practicing the portraiture style for which he'd later become well known. "He would have me come in and paint the houses. That's what I did growing up, was paint walls. So I would come in and do faces on the walls before we painted over them," Aaron says. "But [my dad] used to yell at me about that all the time, because you could still see the faces."
Painting morphed into something more when Aaron began suffering panic attacks and agoraphobia. Aaron's art became his cure. "How do you expose yourself to something enough that it doesn't bother you anymore?" he questions. "One of the reasons I'm even painting live was because that was going to be my therapy, exposing me to things. You go from not thinking you'll ever be able to leave your house to getting in front of a crowd of 300 or 400 people—it's one extreme to the next, and that's what I really wanted to do. That taught me so, so much. It really shows you, you really pretty much can accomplish anything."
---
On this cool September evening on top of the Owensboro riverfront parking garage—where the E. 1999 and Eternal street post and a stage have been erected, and several of Aaron's paintings are on display—the crowd watches the artist carry his black canvas to the stage. "If I don't have that, I don't know what to do with myself for that little bit of time [before I start painting]," Aaron says. "All I'd do is think about messing up or what's going to go wrong, but if I have that canvas, all I'm worried about is how I'm going to hang it."
Canvas in place, Aaron turns his focus to the paintbrushes on the stage floor. He picks one up in each hand and dips them into his paint can. With a flick of his arms, droplets of paint speckle the stage floor. Bristles meet canvas. His two-handed painting technique appears by turns precise and frenetic—carefully placed strokes interspersed with seemingly haphazard, staccato applications of color. After a couple minutes, speculations can be heard on just whom the artist is rendering in paints of teal and white. "Elvis?" "Jesus!" The murmured guesses are as divergent as the people uttering them. It is only in the final moments of the six- or seven-minute-long performance that the brushstrokes transform into a recognizable face. When Aaron turns the canvas upside down (which is actually right side up), Andy Warhol becomes the latest to join the famous visages on display.
---
The first time Aaron performed his speed painting in front of an audience, it was because his world had been turned upside down. His father, Nelson, was diagnosed with lung cancer, and Aaron turned to his art as a way to raise funds to help cover his dad's medical bills. Nelson Kizer died on April 17, 2010. Two days later, Aaron forged ahead with his first public performance. The money was used to pay for the funeral.
"When Aaron's dad passed, he said, 'I'm going to do everything in my power so my dad can be remembered and recognized,' " recalls Aaron's wife, Kitty.
"My dad's death is really what set the whole thing off. Not like his death was 'Hey, you gotta paint,' but it was like, 'Hey, you gotta do something.' Death became my biggest motivator," says Aaron. "It's really when [Kitty and I] started risking everything. Any one of us could die tomorrow, but I don't think many of us could say we've done something that people will remember us for."
Since that first performance, Aaron has donated his time, talent and money toward charitable purposes, including a 2011 art show, Tuff as Nels (named in honor of his father), consisting of 10 commissioned pieces, each paid for by donations to the American Cancer Society. In May 2012, the Daviess County Relay for Life, an ACS event, gave its inaugural "Tuff as Nels" award to a local cancer survivor.
"I don't want people liking my art because we donate," says Aaron. "My biggest thing is these paintings have no relevance to me as much as what the paintings represent … Let's just say one day we find a cure for cancer. No one can say one of the paintings didn't play a part in that. So, to me, that is more important than what the paintings actually are, you know?"
Aaron received international attention in November 2011 when a video recording of his painting performance of Steve Jobs, who had died from pancreatic cancer a month earlier, went viral online (click link at left to view Jobs painting performance). "All the major Apple blogs picked it up," Aaron says. "It started getting like 5,000 views an hour. My closest video to that was like 1,500 [views] in a year … We were getting probably 3,000 emails a day from people wanting to come see us perform or buy a painting."
---
Kitty Kizer is among the crowd of people gathered on top of the parking garage, watching her husband perform—the culmination of months of work they'd embarked upon together. Although Aaron is the more visible of the pair, the couple is, in all senses of the word, a team. The parents of two run Kizer Arts, a graphic design and event production business, and Kizer Construction, a remodeling company that specializes in custom design work.
"We really work well together," Aaron says. "With her doing the set-up at the events—because the events, the shows we do, are really important, too—the way they look are just as important as the show itself."
Kitty was unable to fully play her usual role for this show, Nine One Nine (so named for the date on which it was held). Weeks earlier, she began suffering seizures—a condition that first appeared about a decade ago that was attributed to a "brain infection" and led to Kitty being in a coma for nearly six months. She checked herself out of the hospital so she could be there to watch Aaron share the stage with Layzie Bone of the Bone Thugs-n-Harmony rap group —the couple's favorite growing up—and speed paint the images of Warhol, Neil Armstrong and Tupac Shakur.
Kitty's situation drastically worsened after Nine One Nine, heightening to a point that doctors suspected schizophrenia. She suffered from psychotic delusions, lost all memories of her life before the seizures, and no longer recognized her husband and children. After several months of hospital care, a resident doctor at the University of Kentucky Medical Center in Lexington recognized Kitty's condition as symptomatic of an acute form of encephalitis so rare Aaron says his wife is only the 553rd person to be diagnosed with it.
"I wouldn't even be doing art if it wasn't for her," says Aaron, recalling that when he saw Kitty sitting in a high school art class, he decided to take the class in order to meet her. "We've been together since I was 14."
As he did for his father, Aaron turned to his art as a way to navigate through his family's crisis. "I would gladly give my life to make sure hers was OK. So if I have to, I will work myself to death to get her better," Aaron wrote in a Facebook post. This time, he had the vast support of his community. Various fundraisers, including a benefit event at Reid's Orchard, were held to help pay for Kitty's medical expenses, and the Warhol portrait created at Nine One Nine was raffled.
"Owensboro has helped me out a lot, the people from here," Aaron says. "I don't believe in packing up and leaving from somewhere that got you started. I love Owensboro … I really don't know what it is—I guess it's just because it's home."
---
Today, Kitty is home with her family and recovering. Her memory is steadily rebuilding, and she is working with Aaron on the next Kizer Arts event (see below). The last of the chemotherapy treatments needed to combat her disease is scheduled to take place in June.
Amid their personal struggles, Aaron and Kitty still make helping others a priority, as evidenced in the recent completion of their "Black Print" project. "The 'Black Print' really sums up everything we're about in one piece," Kitty said during an interview last summer. Last year, the Kizers began selling for $30 each black pieces of paper signed by Aaron and hand-numbered by Kitty. Nothing else appeared on the papers, but they were accompanied by a promise from Aaron: "I will make this black sheet of paper a priceless piece of art within one year of its release date … I guarantee, or I will stop painting forever, that I will make it so important you cannot put a price on it."
In January, Aaron released a video explaining the "Black Print." Accompanied by a soundtrack of soft, mournful music, images appear: a signed, black piece of paper; Aaron in front of his paintings; a brown paper bag. White words on a black background explain that a 9-year-old boy with brain cancer has received a terminal diagnosis. Grainy footage, in which no faces can be seen, shows the child's mother receiving the brown paper bag. This meeting, the onscreen text explains, finalized the "Black Print." The video then reveals a large wad of money being inserted into that bag. Those who purchased a print "allowed a mother to not worry about finances but instead to focus on her child while they prepare for the unimaginable."
"The bad things that happen—it's made me do everything I've done in life," Aaron says.
During the final seconds of the "Black Print" video, the music stops and words from Mark Twain appear: Kindness is a language which the deaf can hear and the blind can see.
---
If you go ...
Over Throne at the Orchard
"It has to be an experience. Not just a show," says Owensboro artist Aaron Kizer about the events his company, Kizer Arts, produces. "I want everything there—from the time you first walk in to the time you leave—to be something. Not just me painting. I want people to leave there, to remember, and say not 'That was a cool painting,' but 'It was an awesome night. We had fun that night.' "
Aaron will create his next series of memorable moments for audiences during Over Throne on Saturday, June 22, at Reid's Orchard in Owensboro. Other scheduled performers include Louisvillians B. Stille and Ron Clutch of the hip-hop group Nappy Roots and Marquese "Nonstop" Scott, a hip-hop and street dancer and YouTube sensation who's been featured in numerous commercials and television shows. For tickets, visit kizerarts.com